Networking of Civil Society Organizations in Northern Tanzania: Healthy Competition or A Struggle for Supremacy?
Keywords:
Civil society, Organizations, Networking, Competitions, Tanzania
Abstract
The functions and networking of civil society organizations (CSOs) in Tanzania aimed at promoting sustainable community development that are community-based. This study examined the current CSOs functions, networking and coalition status in Northern Tanzania, particularly in Arusha and Manyara regions. The study applied qualitative methods such as key informants' interviews, focus group discussions, and field observations in data collection. The triangulation of this methods enabled the researcher to acquire the information on their networking mindset, ideological and programming capacities. The findings revealed that sustainable CSOs functions are pegged on a healthy networking and coalition on community capacity building and democratically accepted criteria for choosing their priority in the delivery of social services, and designing financial management standards for checks and balances among financial managers and risks auditors. Therefore, CSOs networking is a base foundation for creating a healthy environment for individual CSOs to form a coalition with other stakeholders in social services delivery to the communities they serve. This is enabled through creativity and addressing critical issues within the society. Thence, such creativity expand their capacity to respond to people's demands with effectiveness. In promoting a healthy networking rather than competition or supremacy, it is suggested that all CSOs operating in an area should be registered under local government authorities (LGAs), and should have frequent meetings per year organized by LGAs as their hosts. The agendas for such meetings should be within the LGAs' goals, objectives and plans. This will increase a sense of attachment and ability to exchange resources, involvements, materials and personnel for good networking environment and coalition.
Downloads
Download data is not yet available.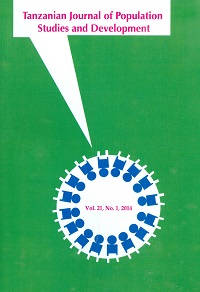 How to Cite
Raphael, L. (2020). Networking of Civil Society Organizations in Northern Tanzania: Healthy Competition or A Struggle for Supremacy?. Tanzania Journal for Population Studies and Development, 27(2), 63-78. Retrieved from https://tjpsd.udsm.ac.tz/index.php/tjpsd/article/view/112